In Memoriam: David. E Knox, MD, FACC, Longtime ABC Member and Friend
The Association of Black Cardiologists (ABC) is deeply saddened to announce that David E. Knox, MD passed suddenly on December 30. He was 67.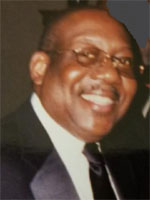 Dr. Knox graduated from Pennsylvania State University College of Medicine in 1976. He completed internship, residency and cardiology fellowship at Albert Einstein College of Medicine. Dr. Knox was board-certified in internal medicine and cardiovascular disease with special interest in hypertension, heart failure and preventive cardiology. He began practicing cardiology in the Philadelphia area in 1981, and was a fellow of the American College of Cardiology.
A member of the ABC for 30 years, Dr. Knox served on the board of directors from 2008-2010 and participated as faculty/program director for ABC regional, national and international programs.
He was a loving and devoted husband, father and grandfather. Our hearts go out to his entire family and to his many friends and patients touched by his gifts.
Funeral Service:

Wednesday, January 10, 2018Viewing: 9:00 AM – 10:30 AM
Omega Service: 10:30 AM
Homegoing Service: 11:00 AM
New Hope Temple Baptist Church
312 West Manheim St
Philadelphia, PA   19144
Interment: Ivy Hill Cemetery
In lieu of flowers or other acts of kindness, the family requests donations to:
Lincoln University
1570 Baltimore Pike
Lincoln University, Pa 19352
Telephone# 484-365-7300
Fax# 484-365-7316All donations in memory of:
Dr. David E. Knox
Class of 1972
Back to News