Events and Programs
ABC offers continuing education opportunities that provide the most current, evidence-based information to health care practitioners. The ABC and its collaborating partners design educational programs to foster professional development and enhance the provision of patient care. The expected results are to increase professional competence, improve performance in practice and improve patient outcomes.
ABC Conference & Symposias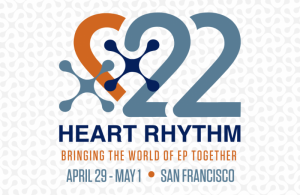 ABC/HRS Joint Session: Addressing the Needs of a Diverse Arrhythmia Population
Thursday, April 28, 2022 (Available On-Demand)
Session Description: In this 60-minute joint session, we would hear from 3 speakers, 15-17 mins each w/ 3-5 mins Q&A each, on topics of special relevance to treating minority population patients, especially African Americans. Proposed Talks: J-point and Early Repolarization Syndromes: Are Blacks at Increased Risk? The Importance of Cultural Competencies in Promoting Lifestyle Modification Atrial Fibrillation and Race – What We Know and Why it Matters
Learning Objective One: Recognize electrocardiographic differences between common and malignant repolarization variants
Learning Objective Two: Apply culturally competent care principles to successfully achieve lifestyle modifications in diverse patient populations
Learning Objective Three: Reassess the relative roles of antiarrhythmic drugs and catheter ablation in the treatment of atrial fibrillation in African Americans and other minority populations
Session Matter: A multitude of clinical, social, cultural and economic make the care experienced by African Americans different from (and too often inferior to) that experienced by the majority population. Understanding the scientific and social underpinnings of these differences constitutes a critical step in assuring equitable, optimized care for all patients.
Session Change: Learners will read ECGs with a better understanding and differential recognition of normal and abnormal repolarization variants. Learners may opt to refer minority AF patients sooner for catheter ablation. Culturally discordant providers will be better equipped to meet patients "where they are" and use meaningful language and arguments when seeking to achieve lifestyle modification (eg weight loss, CPAP compliance, smoking cessation, etc) in their patients.
Session Impact: This session will serve to address important knowledge gaps with respect to arrhythmic risks and opportunities for care optimization in an growing and currently underserved segment of the population.
Newsworthy: Come learn about the impacts of race and ethnicity upon cardiac arrhythmia care!
Co-Chairs: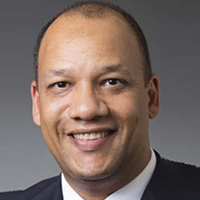 Kevin F. Kwaku, MD, PhD
Co-Chair, Fellows-in-Training Committee, ABC
Director of Cardiac Electrophysiology
Dartmouth-Hitchcock Medical Center
Heart & Vascular Center
Assistant Professor of Medicine
Geisel School of Medicine at Dartmouth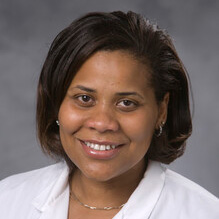 Camille Frazier-Mills, MD, MHS
Cardiac Electrophysiologist
Duke University Medical Center
Agenda:
J-Point and Early Repolarization Syndromes: Are Blacks at Greater Risk?
Olujimi Ajijola, MD, PhD
Co-Director, UCLA-Caltech Medical Scientist Training Program
Associate Professor, UCLA Cardiac Arrhythmia Center
The Importance of Cultural Competencies in Promoting Lifestyle Modifications
LaToya N. Linton-Frazier, MD
Cardiology and Cardiac Electrophysiology
Cardiac and Vascular Associates of MonGeneral
Atrial Fibrillation and Race – What We Know and Why it Matters
Larry R Jackson II, MD, MHS
Assistant Professor of Medicine
Member, Duke Clinical Research Institute
Duke University
Available On-Demand Beginning 04/28/22 as a part of Heart Rhythm 2022. CLICK HERE to register.
Cardiovascular Courses
Upcoming Live Conferences
There are no live conferences at this time.
2018-2024 ACCME CME Accreditation