ABC Access to Care Initiative remains vigilant about improving health care access and outcomes for Black and other high-risk patients and communities.
In November 2016, the ABC developed and executed a Roundtable program at the American Heart Association 2016 Scientific Session in New Orleans, LA, focused on access to cardiovascular treatment for minority patient populations. The various stakeholders at the program recognized that while advanced therapies offer new treatment options for patients with, or at risk for cardiovascular diseases, access remains a challenge for providers and patients, particularly underserved minority patient populations.
Accomplishments of this Initiative so far are:
ABC Access to Care Initiative Provider-Payer Meetings Action Plan Outline (December 2019): One of the solutions identified as a priority was facilitating a structured collaborative meeting between health care providers and payers. A work group was formed to progress this program. In 2019, the ABC held two Provider-Payer Meetings. The meetings were held on September 16 (Washington, D.C.) and October 28 (National Harbor, MD). Both meetings were led by moderator Jennifer Ellis, MD, MBA, Chief of Cardiothoracic Surgery at NYC Health and Hospitals. 
FH Foundation members, Jessica Mao, M.D., Erin Michos, M.D., M.H.S., Vasanth Sathiyakumar, M.D., Cat Davis Ahmed, and Seth Martin, M.D., publish article on FH, "Familial Hypercholesterolemia: What Is It and Who Gets It?" in the U.S. News & World Report (July 2019). 
On June 1, 2019, ABC hosted its Second Roundtable: Health Care Access for Minority and High-Risk Populations in Washington, D.C. This year's Roundtable brought together 16 diverse stakeholders and champions of health access equity around the theme of Growing Impact of Access in Patient Outcomes to discuss how innovative ideas, solutions and opportunities have been implemented, while exploring additional ways attendees could improve access in our health care system. Click to see the summary of the meeting. (June 2019)
The white paper, Identifying How Prior Authorization Impacts Treatment of Underserved and Minority Patients" summarizes the results of the survey developed by the Prior Authorization (PA) Work Group. This white paper provides information that supports the hypothesis that a lack of resources to address PA in practices that serve a substantial proportion of minority patients leads to disparities in access.  This will serve as a foundation for bringing together providers and payers to address PA challenges. (March 2019)
Collaborative development and launch of a series of Prior Authorization Resource Kits.  These kits help cardiology practices better respond to the needs of the current prior authorization process and improve patient access to appropriate, evidence based therapies.  The kits were uniquely developed to focus on disease states and challenges faced by underserved minority patients. (July 2018).  View a video recording of the Resource Kits Introductory webinar. (September 2018)
In March 2018, ABC and ACC collaborated on a two-phase initiative focused on disparities in access to treatment among minorities and underserved populations. The first phase of this initiative was a survey among ABC and ACC members which addressed current issues of access to cardiovascular therapies and perspectives of disparities that exist in patient care. The second phase was a Forum conducted at ACC.18 that brought together a diverse group of stakeholders to provide further insight and clarity around the issues of access, with a focus on the challenges faced by minority and underserved patients with varying levels of insurance.  A summary of the survey data is shown here. 
Publication of Summary Recommendations (February 2017)
Second Roundtable meeting (March 2017) — Roundtable participants included patient advocates, healthcare providers and insurers, patient advocacy organizations, federal agencies, policy experts and others interested in expanding access and accelerating process for people with or at risk for cardiovascular diseases and stroke
Formation of two work groups to explore solutions related to pharmacy programs and prior authorization (June 2017)
Development of three comprehensive program launch plans (September 2017 – July 2018)

MTM (Medical Therapy Management) community awareness/engagement programs (October 2018)

An MTM infographic was developed to provide information on how MTM programs address current cardiovascular disease challenges
View the MTM program summary (December 2018)

Prior Authorization Resource Kit optimized for healthcare providers

Health plan/healthcare provider meeting program and survey to further explore prior authorization disparities

A mini white paper was written to further explore the impact of prior authorization. This collaborative paper is available to download here

The Enhanced Adherence Strategic Initiative (EASi) was created in 2015 to address medication adherence which evolved as a topic of interest towards reducing stroke and heart attack.  The EASi Board is focused on Identifying key issues inimical to medication adherence and racial/ethnic disparities.  The following research authored by board members supports EASi's efforts:

Improving medication adherence in cardiometabolic disease: Practical and regulatory implications.
Ferdinand KC, Senatore F, Clayton-Jeter H, Cryer DR, Lewin J, Nasser SA, Fiuzat M, Califf R.
Journal of the American College of Cardiology. 2017 Jan 31;69(4):437-51
Disparities in Hypertension and Cardiovascular Disease in African Americans: The Critical Role of Medication Adherence.
Ferdinand KC, Yadav K, Nasser SA, Clayton-Jeter H, Lewin J, Cryer DR, Senatore F.
Journal of Clinical Hypertension. 2017 Oct;19(10): 1015-1024


Plus … presentations or discussions about the ABC Access to Care Initiative with:
More than 10 national or regional meetings
National Continuing Medical Education (CME) Programs
Congressional Black Caucus meetings
and more …
This highly collaborative Initiative would not have been possible without the continued insights and involvement of the talented and dedicated work groups who represent many different sectors and organizations. We are particularly grateful to be able to work with these individuals towards key shared goals.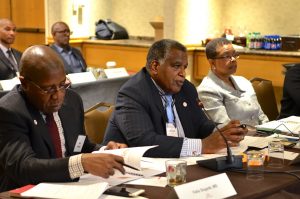 Initiative Chair
Keith C. Ferdinand, MD, FACC, FAHA, FNLA, FASH
Professor of Medicine, Tulane University School of Medicine
Pharmacy Programs Work Group
Kevin B. Sneed, PharmD (Work Group Lead), Senior Associate Vice President, University of South Florida Health Dean and Professor, College of Pharmacy
Michele Blair, CEO, Heart Failure Society of America
Rebekah Gee, MD, MPH, Secretary of the Louisiana Department of Health
David A. Gooray, MD, FACC, Cardiologist
Millicent Gorham, PhD, MBA, FAAN, Executive Director, National Black Nurses Association
Patrice Guzman, MBA, Senior Manager for Patient Advocacy, Heart Failure Society of America (HFSA)
Barbara Hutchinson, MD, PhD, FACC, President, Association of Black Cardiologists
Marjorie Innocent, PhD, Senior Director of Health Programs, National Association for the Advancement of Colored People (NAACP)
Frank W. Smart, MD, FACC, FACP, Chief, Section of Cardiology, Department of Internal Medicine, Louisiana State University, President, Louisiana Chapter of the American College of Cardiology
Richard Allen Williams, MD, FACC, FAHA, FACP, Clinical Professor of Medicine, UCLA School of Medicine, President, National Medical Association, Founder, Association of Black Cardiologists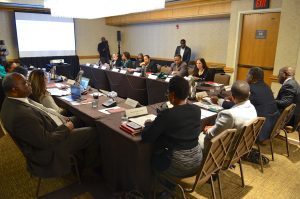 Prior Authorization Work Group
Phillip B. Duncan, MD, FACC (Work Group Lead), Medical Director, Cardiac Health Management Network
Catherine Davis Ahmed, Director of Outreach, FH Foundation
Seth Baum, MD, FACC, FACPM, FAHA, FNLA, FASPC, President, American Society for Preventive Cardiology
Javed Butler, MD, PhD, Chief of the Cardiology Division, Stony Brook School of Medicine
Lisa Martin, MD, Associate Professor of Medicine, George Washington University
Gary A. Puckrein, PhD, President and CEO, National Minority Quality Forum
Joyce Ross, MSN, CRNP, CLS, FNLA, President, National Lipid Association
Felix Sogade, MD, FACC, FHRS, Chairman of the Board, Association of Black Cardiologists
Allison J. Young, President and CEO, Louisiana Community Health Plan, United Healthcare
The ABC would like to thank the following supporters for their contributions to the success of the Access to Care Initiative:
Click here for Accessing the Resource Kits