ALERT: Sanofi and Regeneron Reduce Price for Praluent® (alirocumab)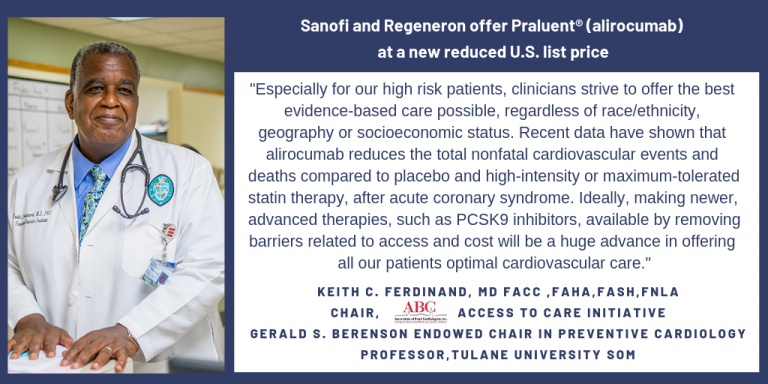 Comment:
"Especially for our high risk patients, clinicians strive to offer the best evidence-based care possible, regardless of race/ethnicity, geography or socioeconomic status. Recent data have shown that alirocumab reduces the total nonfatal cardiovascular events and deaths compared to placebo and high-intensity or maximum-tolerated statin therapy, after acute coronary syndrome. Ideally, making newer, advanced therapies, such as PCSK9 inhibitors, available by removing barriers related to access and cost will be a huge advance in offering all our patients optimal cardiovascular care."
Keith C. Ferdinand, MD FACC ,FAHA,FASH,FNLA
Chair, ABC Access Initiative
Gerald S. Berenson Endowed Chair in Preventive Cardiology,
Professor, Tulane University SOM
---
Sanofi and Regeneron offer Praluent® (alirocumab) at a new reduced U.S. list price
BRIDGEWATER, N.J. and TARRYTOWN, N.Y., Feb. 11, 2019 /PRNewswire/ — Praluent® (alirocumab) will be made available at a new reduced U.S. list price of $5,850 annually, a 60% reduction from the original price, for both the 75 mg and 150 mg doses, beginning in early March.
The new lower-priced Praluent is expected to result in lower patient out-of-pocket costs and represents another step in the companies' efforts to help improve patient affordability and access. This follows an earlier announcement in March 2018, when Sanofi and Regeneron committed to lower the U.S. net price for payers in return for helping to reduce burdensome access barriers for appropriate patients.
View the full press release
Back to News