Barbara Hutchinson, MD, PhD, FACC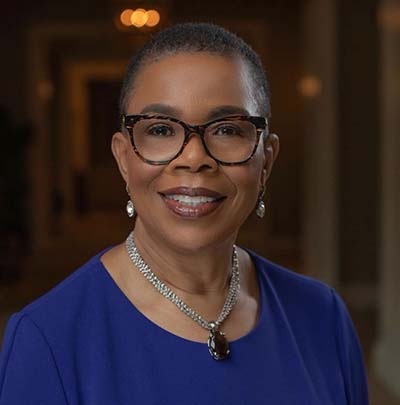 Barbara A. Hutchinson, MD, PhD is a renowned cardiologist who is the President of Chesapeake Cardiac Care, an adult cardiology practice, headquartered in Annapolis, Maryland. Patients from all over the world seek her out; they'll get on a plane in the morning, have an appointment with her that includes expedited one-day test results, and then get back on a plane later that evening.
One of the few doctors in the United States who is board certified in both cardiovascular disease and sleep medicine, Dr. Hutchinson is also a noted speaker on heart disease in women and how sleep affects heart health. Born in Trinidad & Tobago, she earned her Bachelor of Science in Chemistry at the University of the West Indies. Upon graduation, she moved to the United States, and earned a Ph.D. in Cardiovascular Pharmacology from Howard University in Washington, D.C. Not one to rest on her laurels, she followed up her Ph.D. by earning her M.D. and completing a Fellowship in Cardiology at the University of Maryland in Baltimore, Maryland.
Aside from her credentials and expertise, Dr Hutchinson brings compassion and warmth into every exam room for the benefit of patients. Her reputation for extraordinary care is a result of taking time to educate patients on their medical condition, explain test results, and detail the follow-up care that is needed.
Among her many awards and recognitions, Dr. Hutchinson is one of the Top 50 Women to watch in Maryland, Top 100 Women in Maryland 2014, 2016, and 2020, Brava Award winner, an Enterprising Woman of the Year Award Winner, member of the Enterprising Women Advisory Board, member of Women Presidents Organization and Past President of the Association of Black Cardiologists. She is also a Fellow of the American College of Cardiology (FACC), a Diplomate of the American Board of Internal Medicine, and she was appointed to the Cardiovascular Examination Writing Committee for the American Board of Internal Medicine.
As a way of giving back, Dr. Hutchinson mentors students and residents considering a specialty in cardiology by having them spend time gaining firsthand experience in her practice.
She serves on several nonprofit boards including Girl Scouts of Central Maryland and Heart Health Foundation.
View All Board Members