He Stepped Out On Faith to Come Here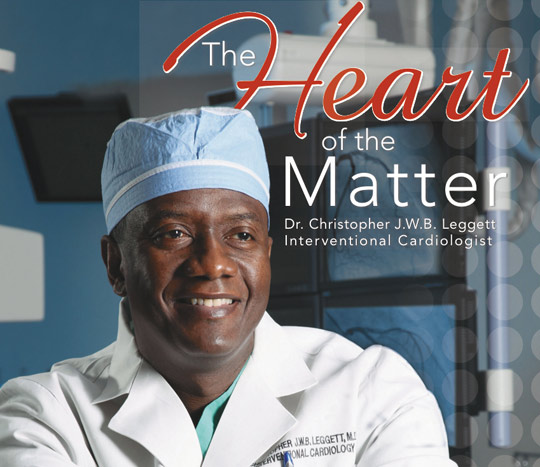 Leaving a position as Director of Cardiology at Medical Associates of North Georgia in the Atlanta area, which served patients from all over the U.S., Christopher J.W.B. Leggett, MD, FACC, has now opened an office in Statesboro, Georgia, at East Georgia Regional Medical Center (EGRMC). His new position as Director of Interventional Cardiology at EGRMC is a role he was led by faith to choose along with his role as founding physician of the Cardiovascular Institute of Georgia.
Dr. Leggett's faith has led him to bring his nationally recognized talent in interventional cardiology to an area he feels is underserved. He recognizes the disparity in health care between metropolitan citizens who have access to Level I trauma centers and those of us who abide in rural areas of Georgia, (and the nation), who must drive an hour or more to receive the same level of care.
"I felt God was leading me to Statesboro to bring the next level of care to where it is needed most. God showed me that people in rural America are suffering from a lack of life saving technology," Dr. Leggett stated. He believes we deserve the same level of care patients receive at Case Western in Cleveland or Johns Hopkins in Baltimore.
"Excellent care should be something you expect in your community," Dr. Leggett stated.
He could have gone anywhere
Educated at Princeton University, Case Western Reserve School of Medicine, Emory, and Johns Hopkins, Dr. Leggett's list of accomplishments in the field of cardiovascular health is impressive. Holding board certifications in internal medicine, cardiology, and interventional cardiology, his mantra is excellence in all things, a personal philosophy which lead him to seek a fellowship at the University of Alabama at Birmingham, after leaving Emory.
"I felt God was leading me to Statesboro to bring the next level of care to where it is needed most. God showed me that people in rural America are suffering from a lack of life saving technology" – Dr. Christopher J.W.B. Leggett
There he trained with Dr. Gary Roubin, Aussie import and renowned inventor of the first heart stent approved by the FDA. "He picked one person out of the U.S. pool of fellows. He chose me," Dr. Leggett said, "It had to be orchestrated by God; it was one of the most prolific years of my life.
"In the 25-year-old field of interventional cardiology, Dr. Roubin has been characterized by some as a "cardio-jock." One of the first stents bears his name – the Gianturco-Roubin stent. In the mid 1990s, Dr. Roubin pioneered research into applying stents to clogged carotid arteries as a way of preventing strokes. And, Dr. Leggett learned from him. "He taught me not to be intimidated by what I saw, to approach whatever is presented one step at a time," he said. "He was the perfect mentor. He taught me everything he knew. He was honest. Direct. Always prepared.
" This one step at a time approach has been orchestrated by Dr. Leggett and, along with prayer, allows him to calmly deal with each patient's needs.
"People are dying here," he said. "In places like Statesboro, people have to drive 60 – 75 miles to a heart center." Sometimes the damaged heart muscle can't make it that far. Dr. Leggett's goal is to improve survival, decrease mortality, and improve the quality of life of the area's rural residents, statistically those who are most in need of cardio care.
Dr. Leggett has also participated in national and international clinical trials researching ways to improve current available technology and the techniques used in interventional cardiology. He has been involved in medical initiatives concerning the improvement of cardiovascular care for diabetics with cardiovascular disease. In addition, he helped found the "Close the Gap" campaign, a national initiative with goals "to decrease cardiac death, improve access to life saving cardiovascular technologies, while ultimately eliminating the disparity gap in access to quality cardiovascular care amongst women and minorities.
"Dr. Leggett is working not only to close the disparity gap in care, but to close the gap in patient expectation as well.
He has a firm foundation
Born on November 8, 1960 in Cleveland, Ohio, to Willie and Ethel Leggett, Dr. Leggett was the tenth of eleven children, including eight sisters and two brothers. Dr. Leggett's father, Willie Leggett, moved to Ohio from Mississippi in 1949 looking for better opportunities. He felt called to the Baptist ministry and reared his children as faithful Christians.
According to Dr. Leggett, "He had simple rules. In the morning we had family prayer, all eleven kids on their knees in the living room. There was no democracy in that regard. We came to know it and respect it. My father wanted all heads under one roof at night; everybody in their own nest," he said.
Dr. Leggett characterizes his childhood home as "a loving household." "There was honor and respect. I learned how to respect women. I also saw my father honor my mother in the Biblical sense of being head of our household," he related. Dr. Leggett also credits his parents with his own success, acknowledging success is only possible because of the sacrifices they made for him. He believes striving to live a life of excellence is a tribute; a way to honor them in return.
Dr. Leggett lost his father to complications from the flu when he was eight years old. His mother kept the children in church and through her own strong love and faith managed to keep them focused on the importance of getting an education and trusting in the Lord.
At thirteen, Dr. Leggett was given the opportunity by a church deacon to apply to a special program for bright inner city kids, "A Better Chance." This program was designed to offer opportunities for education at a confluence of private schools throughout the nation. Dr. Leggett was chosen to attend Phillips Academy in Andover, Massachusetts, on a full academic scholarship. After graduating from Phillips, Dr. Leggett attended Princeton on an academic scholarship as well.
While at Princeton, Dr. Leggett's mother chose to return to the faith of her family and was baptized into the Adventist Church back in Cleveland. When Dr. Leggett returned home for a visit, his mother wanted him to meet the pastor that baptized her. He not only met the pastor. He met the pastor's daughter: a beautiful, bright, self-possessed young lady named Denise Cleveland.
According to Dr. Leggett, "I never met anyone her age (19) that loved God as much as she did. Just the way she felt. God was her best friend." Denise's faith led Dr. Leggett to be more serious about his own spirituality. "She introduced me to my power source. I could access it by watching her example," he said. Denise received her Juris Doctorate from Boston University in 1984.
In 1985, Dr. Leggett and Denise Cleveland were married. She sacrificed to support his work in medicine, becoming a powerful attorney in her own right specializing in healthcare. In 2001, Lt. Governor Mark Taylor appointed Denise Cleveland Leggett, Esq., to the Georgia Commission on Women where she chaired the Sub-Committee on Cardiovascular Health and Obesity, among other prestigious committee appointments. Dr. Leggett reserves his highest praise for his wife of 25 years and her strong spiritual foundation.
The Leggetts have two children. Twenty-year-old daughter Alexandria is a sophomore at Princeton. She speaks fluent Mandarin, Japanese, French, and Spanish and was hired by Coca Cola® to work at the Beijing Olympics as a translator to interpret for international guests. Son Christopher, fourteen, is a good student and a gifted athlete in both basketball and football. "They have provided us with a good deal of excitement and joy, and the usual work that goes with kids," Dr. Leggett stated.
He Speaks To The Needs
"Part of our job is to introduce this new world of survival to patients so their expectations can be the same as someone who lives across the street from Duke University Hospital. They will come to expect that," Dr. Leggett said.
The new procedures Dr. Leggett plans to introduce at EGRMC include PTCA – percutaneous coronary angioplasty; stents and intracoronary stent placement; IVUS – coronary and peripheral intravascular ultrasound technology; FFR – coronary fractional flow reserve technology; complete peripheral endovascular stent technology; the newest and most advanced catheterization lab equipment; pace maker and defibrillator implantation. There are also plans for the establishment of a new high tech coronary care unit and post PTCA/STENT unit.
"These technologies coupled with existing cardiac catheterization, echocardiography, nuclear medicine, CT angiography and vascular surgery position us for explosive growth and the ability to address our regional patient population needs right here at home. Additionally, these medical needs will be addressed at the highest level possible in the world," Dr. Leggett related.
The new equipment has already arrived. There is now no finer interventional cardiology technology in the world than in Statesboro, Georgia. In his first two weeks, Dr. Leggett performed almost as many procedures in Statesboro as he did in north Georgia in a month. He may just know something about small towns, too. "The best testament to what we are doing is right? The patients will carry the word for us," he said.
"I always want to embody the highest commitment to principles of excellence in everything I do," he continued, "particularly the delivery of healthcare. I live by one simple principle and that is to treat people like I would want to be treated. If I do that, everyone I come into contact with will receive superlative care, because that's what I would always choose for myself. The best."
Back to News