Dr. P on the Pod Podcast: Shedding a Light On Heart Disease and African Americans – April 20, 2023
Dr. P and Dr. Chukumerije delve into cardiovascular disease, which is the primary cause of death for African Americans. They discuss risk factors, hidden symptoms, and how our culture and family histories play a role.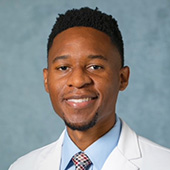 dfdf
Dr. Merije Chukumerije is board certified in Cardiology, Echo, Nuclear and Vascular medicine. Sports and exercise cardiology is a special focus. He is team physician and a consultant to the NBA, NHL and MLS. He was interviewed on The Talk regarding Damar Hamlin amid much speculation of the cause(s) of his cardiac arrest. CAD as well as HCM came through as possibilities in this educational segment.
dfdf
Back to News