Dr. Keith C. Ferdinand Receives 2017 Wenger Award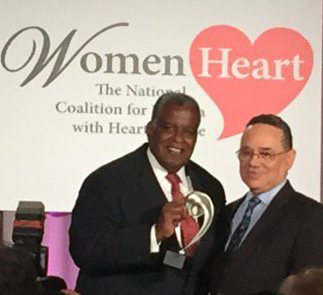 WomenHeart: The National Coalition for Women with Heart Disease presented the Wenger Award for Excellence in Medical Leadership to Keith C. Ferdinand, MD, FACC, FASH, FNLA at the 17th Annual Wenger Awards Dinner held May 1st in Washington, DC. This year's awards recognized those making extraordinary contributions to advancing women's heart health in underserved communities.
Dr. Ferdinand has dedicated his career to improving patient care and eliminating health disparities, regardless of race, ethnicity, socioeconomic status, or gender.  Dr. Ferdinand continues to focus on the well-being of the public in his home town with the Healthy Heart Community Prevention Program, and as a professor of medicine at the Tulane University School of Medicine Heart and Vascular Institute in New Orleans.  He is chairperson of ABC's Initiative to Improve Health Care Access for Minority or High-Risk Populations. 

The award was presented to Dr. Ferdinand by ABC Founding Member Dr. Boisey O. Barnes (pictured above).
Back to News