ABC Members Present at 31st Annual International Congress in Tanzania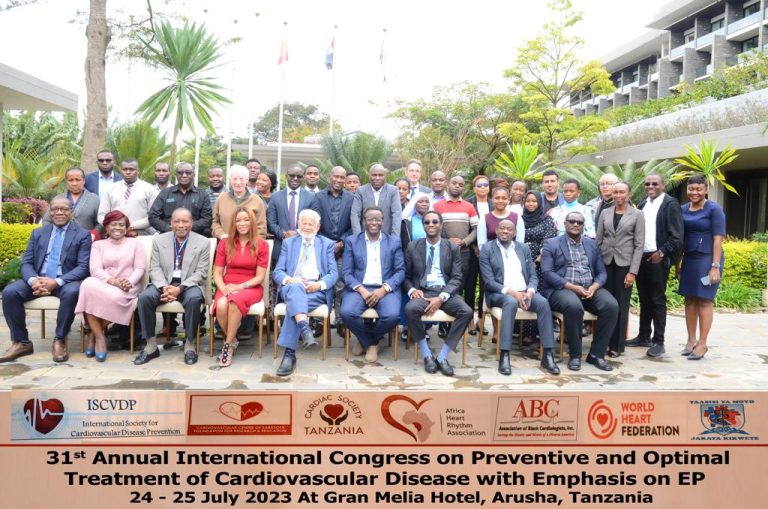 Last month, ABC members presented at the 31st Annual International Congress on Preventive and Optimal Treatment of Cardiovascular Disease in Arusha, Tanzania. Past ABC Board member Mahfouz El Shahawy, MD and Past ABC Board Chair Felix Sogade, MD served as two of the four co-chairpersons of the conference. Faculty included Immediate Past ABC Board Chair Elizabeth Ofili, MD; Past Co-chair of ABC's CVD in Women Committee Bola Sogade, MD and Chamberlain Obialo, MD.
The two-day Congress, held on July 24 and 25, was marked by exceptional insights from global cardiovascular experts with a special emphasis on cardiac electrophysiology (EP). The program was rich with presentations that ranged from managing common arrhythmias, approaches to atrial fibrillation treatment, and the role of the kidney in cardiovascular disease as well as novel methods for early cardiovascular disease risk assessment.
The successful participation and active involvement of our ABC members made a significant impact on this international platform, contributing to a deeper understanding of cardiovascular disease prevention and management. The ABC continues to show its dedication to fostering discussions, collaboration, and advancement in the field of cardiology on a global stage.
The program was sponsored by the International Society for Cardiovascular Disease Prevention, the Cardiovascular Health Assessment Center of Sarasota, the Cardiovascular Center of Sarasota Foundation for Research and Education, the El Shahawy Family Foundation, and the African Heart Rhythm Association, and in cooperation with the Association of Black Cardiologists, World Heart Federation, University of Minnesota, Center for Cardiovascular Disease Prevention.
Back to News