Marlene S. Williams, MD, FACC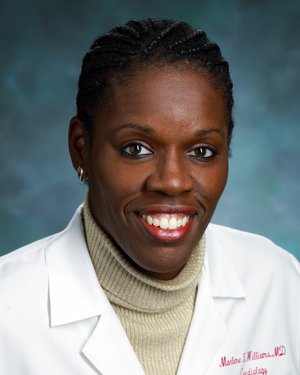 Dr. Marlene Stephanie Williams is an Associate professor at the Johns Hopkins University School of Medicine. Her research focuses on coronary atherosclerosis and platelet function, and her particular focus is on platelet function as it relates to the acute coronary syndrome.
Dr. Williams has examined platelet function and its correlation to platelet functional genomics and runs a platelet physiology laboratory on the Johns Hopkins Bayview campus. The goal for her cardiovascular platelet laboratory has been to identify the etiology of platelet dysfunction in many disease states and apply methods that may improve this dysfunction that may eventually be translated to therapies for patients with cardiovascular disease. She is a prior recipient of an NIH career mentored award (K23) examining platelet functional genomics and an NIH RO1 award addressing platelet serotonin signaling in depression and heart disease.
Dr. Williams has several publications covering platelet functional changes in settings of interventional cardiology, acute coronary syndrome, and heart disease and depression. She has participated in several NHLBI advisory committees, review groups, and study sections.
Dr. Williams has been the Course Director, of the advanced clinical clerkship in coronary intensive care at the Bayview Medical center and has mentored many medical residents and cardiology fellows.
Dr. Williams received her undergraduate degree in biochemistry from McGill University. She earned a medical degree from the Columbia University College of Physicians & Surgeons and completed a residency at Johns Hopkins Hospital. After completing a residency, Dr. Williams was a cardiology fellow at Mount Sinai Hospital and Johns Hopkins Hospital.
View All Board Members