Kevin F. Kwaku, MD, PhD, FACC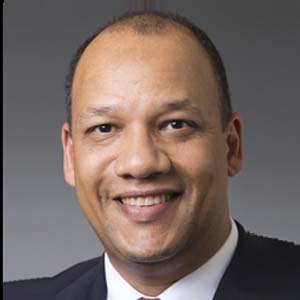 Kevin Kwaku, MD is Co-chair of the Association of Black Cardiologist's Fellows' Committee. He holds a BSc in Physiology from McGill University and combined MD-PhD degrees from Columbia University. He completed residency in Internal Medicine at Massachusetts General Hospital and fellowships in Cardiovascular Medicine and Clinical Cardiac Electrophysiology at Beth Israel Deaconess Medical Center (BIDMC) under the mentorship of the late EP pioneer Mark Josephson, MD.
Dr. Kwaku served as junior faculty at BIDMC and Harvard Medical School until moving to Honolulu, Hawaii as Director of Electrophysiology for Kaiser Permanente. From 2014 to 2017 he served as Chief of Cardiology for the Hawaii Region. In 2015 was elected to the Board of Governors of the American College of Cardiology.
In 2017, Kevin returned to the Northeast serving as Director of Electrophysiology at Dartmouth-Hitchcock Medical Center and Assistant Professor of Medicine at the Geisel School of Medicine at Dartmouth. Dr. Kwaku is the author/co-author of numerous peer-reviewed papers in translational and clinical EP and of three book chapters. He currently serves on the Editorial Board of the Journal of the American College of CardiologyClinical Cardiac Electrophysiology.
When not treating cardiac arrhythmias, Kevin enjoys hiking, international travel (pre-COVID -19!), following local sports teams and listening to jazz.
View All Board Members