Joyce Gwendolyn Bartley Taylor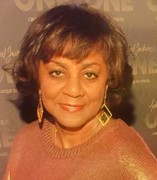 Mrs. Joyce Gwendolyn Bartley Taylor is a Mississippi native born in Crystal Springs, MS to Mr. and Mrs. George W. Bartley, Sr. She did her undergraduate work in Mathematics at historic Tougaloo College in Tougaloo, Mississippi and her graduate work in Computer Based Information Systems at the prestigious Massachusetts Institute of Technology in Boston, Massachusetts.
Mrs. Taylor's professional work history includes working as a Computer Systems Analyst for the U.S. Veterans Administration at their Central Data Processing Center in Austin, Texas, the Jamaica Plains Veterans Hospital Laboratory Automation Team in Boston, MA, the Veterans Administration Central Office Computer Systems Analyst Staff, The U.S. Department of Justice Technical Assistance Staff, and Applied Urbanetics, Inc. all in Washington, D.C.
After moving to Mississippi, Mrs. Taylor taught computer science and mathematics at Jackson State University and Tougaloo College before joining her brother, George Bartley Jr. in opening Innovative Systems, LLC, a private Computer Software Development and Consulting Company. While working actively in the computer-based data processing business, Mrs. Taylor was appointed to serve on the Mississippi State Data Processing Board which overseed all data processing equipment and software RFPs and acquisitions by state agencies. After retiring from the computer software development business, she has worked as a Real Estate Broker.
Mrs. Taylor has always been engaged in improving the lives of people in her community. She served on the Board of the Community Foundation for Greater Jackson as Grants Chairperson involved in supporting non-profits organizations doing good work helping Mississippians.
Mrs. Taylor, being the wife of a cardiologist and the daughter of a stroke victim, has also dedicated her energies to reducing and preventing the occurrence of the major risk factors that cause heart disease and stroke.
In the late 1990's she began by personally conducting a seven-month program at her church using the Association of Black Cardiologists, Inc. "7 Steps to a Healthy Heart " This program included screenings, exercise, nutrition, and workshops presented by medical experts in the areas of Hypertension, Diabetes, Weight Control, Cholesterol Control, Smoking Cessation, and Mental Health.
Mrs. Taylor has also hosted and coordinated several Association of Black Cardiologists, Inc. "Spirit of the Heart" Weekends for the Jackson, Mississippi Community. She also hosted segments of the filming of the ABC 's Generations Video In her home in Mississippi.
Mrs. Taylor later developed a program called "For A Happy Healthy Heart", which she used to teach elementary age students to "Eat Smart", "Play Smart" and develop "Healthy Heart Habits". She also started a Double Dutch Jump Rope Program for these students to encourage an affordable and fun way to exercise at school or at home. Mrs. Taylor chaired an after-school health program in Mid Town Jackson for middle school students to address childhood obesity by teaching them about good nutrition, how to read food label to choose the healthiest snacks and foods and the importance of exercise. These school programs were presented in collaboration with her Jackson Links Chapter and the Mid-Town Jackson Initiative. This school-based program also included screenings and workshops for teachers and parents. She continues to work as a Community Health Advocate in the Jackson, Mississippi metropolitan area.
Mrs. Taylor has been an active member of her local Jackson, MS, and Mississippi State Medical Auxiliaries since 1979. She has served in the office of president and financial secretary. She is also a member of the Auxiliary to the National Medical Association (ANMA) where she has served two terms as chair of the ANMA Health and Health Education Committee and one term as Second Vice President, a member of the ANMA Board of Directors and a member of the ANMA Awards Committee.
Mrs. Taylor is a member of the Association of Black Cardiologists, Inc. (ABC) where she is currently a member of the Community Programs Committee and previously served on the now defunct ABC Women's Health Board, which was chaired many years ago by cardiologist, Dr. Ann Taylor. Mrs. Taylor most recently helped to coordinate the virtual training of 29 new Mississippi ABC Community Health Advocates and is working to help ABC spread it cardiovascular disease prevention message to more area of Mississippi.
She is an active member of Pilgrim Rest Missionary Baptist Church in Madison, MS, a member of Delta Sigma Theta Sorority, Inc. a charter member of the Madison County Graduate Chapter of Delta Sigma Theta Sorority, Inc., a member of the Jackson, MS Chapter of The Links Inc. and the Jackson, MS United Way Women's Council.
Mrs. Taylor is married to Dr. Malcolm P. Taylor and has four children, Khary Malcolm (Toya) and Keith Taylor (Chante}, both Cardiovascular Pacemaker Sales Representatives, Dr. Kimberli Taylor Lambert (Jay), a cardiologist, and Mrs. Kellee Taylor Perry (Rubeen), a Fashion Merchandise Buyer. She has fourteen beautiful grandchildren, Ashley, Chaz, Deion, Parris, Chauncey, Kiarrah, Chase, Jalen, Chloe, Taylor, Malcolm, Kamryn, Jackson, and Layla.
Mrs. Taylor loves to read, travel, and enjoy leisure time with her husband, children, grandchildren, family, and friends.
View All Board Members