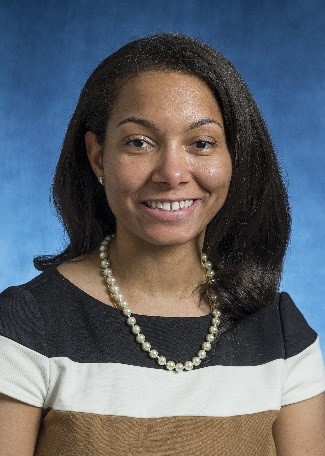 Sabra C. Lewsey, MD, MPH is an assistant professor of medicine and an advanced heart failure cardiologist at the Johns Hopkins University School of Medicine in Baltimore, MD.
Prior to her medical training she completed her undergraduate degree at the University of Virginia in Human Biology with Highest Honors. While at UVA, she was named to Phi Beta Kappa and was bestowed the Gray-Carrington Award, the highest university honor awarded to an undergraduate student. She attended medical school at Columbia University College of Physicians and Surgeons as a J.F. Bohmfalk Scholar. During her time at Columbia, she served on the Executive Committee and Board of Directors of the Student National Medical Association as the National Premedical Board Member. She graduated Columbia with the Aura E. Severinghaus Award and the distinction of Alpha Omega Alpha. While in medical school, she dual-enrolled and obtained a Master of Public Health degree at the Harvard School of Public Health with a focus in Health Policy and Management. She completed her internship and residency in the Johns Hopkins Osler Medical Residency Program. She also completed clinical and research fellowships in cardiovascular disease and advanced heart failure at the Johns Hopkins Hospital. She has been recognized with the Fellows Teaching Award from the Johns Hopkins Bayview Medical Center. Dr. Lewsey has been named a Fellow of the American College of Cardiology and has recently received the Distinguished Service Award from the Association of Black Cardiologists. She has received national commendation for her academic contributions and was recognized as a 2020 Butler-Williams Scholar.
Her research interests include factors contributing to exercise intolerance, sarcopenia, frailty, and debilitation in aging, particularly in those with heart failure and in patients with HIV. She is also interested in quality initiatives in improving heart failure care, including access, utilization, and outcomes in diverse and aging populations.
View All Board Members