Anekwe E. Onwuanyi, MD, FACC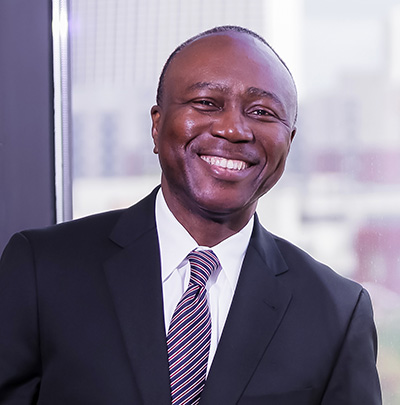 Anekwe E. Onwuanyi, MD is currently Professor of Medicine and serves as Chief of Cardiology at Morehouse School of Medicine and Medical Director of the Heart Failure Program at Grady Memorial Hospital. He is board certified in Cardiovascular Diseases and Advanced Heart Failure and Transplant Cardiology. He is a consultant cardiologist at Grady Memorial Hospital, WellStar Atlanta Medical Center and Emory University Midtown Hospital in Atlanta, Georgia. Prior to joining Morehouse School of Medicine, Dr. Onwuanyi held faculty appointments as Assistant Professor of Medicine at Mount Sinai School of Medicine and Columbia University College of Physicians and Surgeons in New York.
In addition to his clinical activities and teaching responsibilities, Dr. Onwuanyi research interest includes heart failure, hypertension, coronary artery disease and evaluation of disparities in cardiovascular disease outcomes. He has participated as site Principal Investigator and Co-Investigator for several national and international research projects supported by organizations such as the National Institute of Health, Center for Disease (CDC) and pharmaceutical industry. Dr. Onwuanyi has published several papers in peer-reviewed journals.
Under his leadership, the heart failure program at Grady Memorial Hospital has been awarded the Gold Plus hospital achievement award from the American Heart Association "Get with the Guideline" program. Other honors include the meritorious award for teaching and patient care, designation of specialist in clinical hypertension by the American Society of Hypertension and recognition as a fellow of several professional organizations including the American College of Cardiology, American Heart Association (Clinical Cardiology), the Heart Failure Society of America, American College of Physicians and Society of Internal Medicine and American Society of Hypertension. Dr. Onwuanyi has served on several scientific planning committees on heart failure, clinical cardiology and hypertension. He is a peer reviewer for the American Heart Association as well as ad hoc reviewer for several scientific journals. Currently, he is serving as member of the American College of Cardiology heart failure work group for updating the accreditation criteria for heart failure programs in the United States and member of the Advanced Heart Failure and Transplant section. Dr. Onwuanyi is a long-time volunteer for the American Heart Association and currently serves on the research oversight committee for the Strategically Focused Research Network for heart failure. (SFRN-HF), Diversity Leadership and Science Advisory Coordinating Committees.
Morehouse School of Medicine cardiovascular disease fellowship training program was established in 2017 under the leadership of Dr. Onwuanyi with a key goal of contributing to the effort to diversify future cardiovascular specialist.
View All Board Members