Web-based Training About Patient-Centered Heart Research
UPDATE: This session will be rescheduled at a TBD date and time.  Check back for more info.
Help Us Achieve Our Goal of Successful PCOR Training for Patients of ABC Providers!

Dear ABC Members,
We need your assistance and engagement. Please consider helping ABC achieve our goal of a successful patient-centered outcomes research (PCOR) training for patients of ABC providers.
Would you be please commit to working with your staff to identify 5-10 patientsto participate in the patient training program on (to be held via a web-based virtual meeting)?
The training will be held on: July 22nd from 4:30p-5:15p EST
Please ask your patients to register at:
https://tinyurl.com/PCORRegistration
Below is a link to a handout that provides more details that you can share with your patients. For your convenience, you can print several on one page.
If it is easier for your patient, please simply email them this text version and include the above link that they can click on to register.
Please impress upon your patients the importance of partnering with you to learn about patient-centered research.
Thank you for working with us, and if you have any questions, please don't hesitate to reach out to Tierra Dillenburg via email or phone: 347-452-4818.
Eldrin F. Lewis, MD, MPH, FACC, FAHA
Associate Professor of Medicine
Harvard Medical School
Director CV Clerkship and STARS program, Brigham and Women's Hospital
eflewis@bwh.harvard.edu
DOWNLOAD FLYER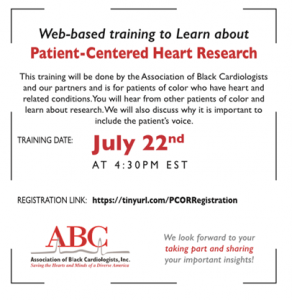 Back to News