16th Annual CMHC Nears Commencement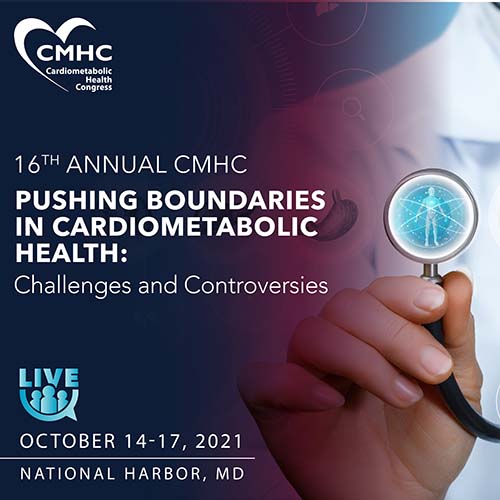 The event takes place October 14-17 in National Harbor, MD.
The Cardiometabolic Health Congress is gearing up for the 16th Annual CMHC | Pushing Boundaries in Cardiometabolic Health: Challenges and Controversies. The event will feature four day of new late-breaking research, FDA updates, clinical insights, and more. Taking place October 14-17, the 16th Annual CMHC will offer direct access to leading academic experts, clinical researchers, and more through a wide variety of interactive sessions.
The conference will begin with an in-depth pre-conference workshop titled A Wolf in Sheep's Clothing: Actionable Cardiometabolic Rare Diseases You Might Miss. The workshop will deliver a comprehensive overview of rare lipid, cardiovascular, diabetes, and obesity disorders. The second day will highlight FDA updates and new advances in obesity and lifestyle care. The day will also feature a keynote presentation from Dr. Sandeep Jauhar, a cardiologist and New York Times bestselling author. Dr. Jauhar will share his unique perspective on how patients' emotions and psychological wellbeing can influence heart disease and cardiometabolic risk, how to better understand these connections, and how to account for them when individualizing therapy. The third day will focus on dyslipidemia, atherosclerosis, thrombosis and diabetes. The final day will end with a session on hypertension, heart failure and kidney health.
The full agenda for the event can be found here.
As the nation's premier event in cardiometabolic medicine, the 16th Annual Cardiometabolic Health Congress has been curated by the field's leading experts to deliver to clinicians the latest evidence-based interventions to improve health outcomes and quality of life for the growing numbers of patients at increased cardiometabolic risk.
Visit cardiometabolichealth.org to learn more.
Back to News