The Pulse of LGBTQ+ Health and the Spectrum of Care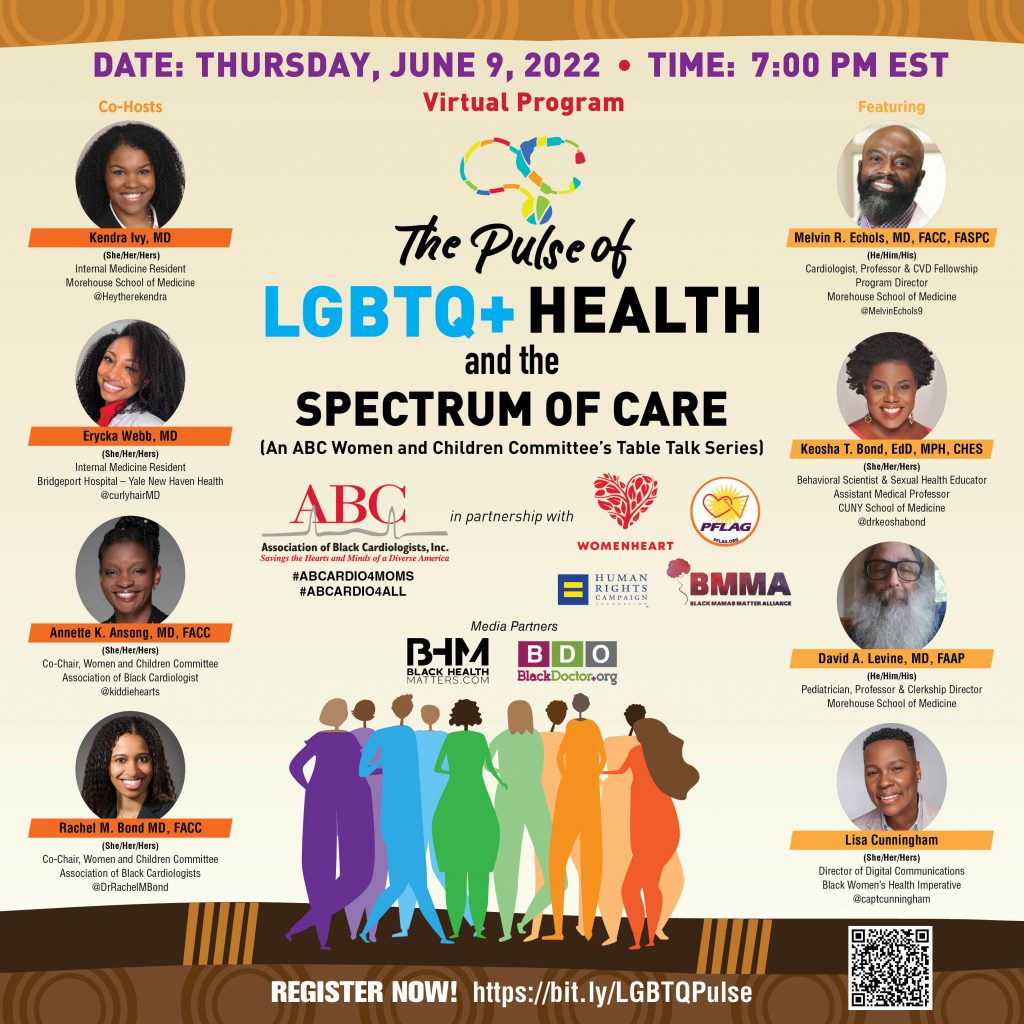 The Pulse of LGBTQ+ Health and the Spectrum of Care
An ABC Women & Children Committee Table Talk Series
Heart disease is the leading cause of death in the U.S. and can affect anyone, regardless of sexual orientation or gender identity. According to the American Heart Association, LGBTQ+ (Lesbian, bisexual, transgender, and queer or questioning) adults experience distinct challenges and worse cardiovascular health than their cisgender, heterosexual peers.Please join us to hear from the experts as they discuss and equip the LGBTQ+ Community with tools and resources to improve heart-health outcomes. Learn about the role gestational hypertension and preeclampsia may play in the short and long-term heart health of LGBTQ+ patients. Significant attention to the unique healthcare obstacles faced by Black and other marginalized individuals within this group will anchor this important conversation.
Panelists include:
Rachel M. Bond, MD (Preventive Cardiologist, Dignity Health Arizona)
Annette Ansong, MD (Pediatric Cardiologist, Children's National Hospital)
Melvin R. Echols, MD (Cardiologist, Morehouse School of Medicine)
David Levine, MD (Pediatrician, Morehouse School of Medicine)
Keosha T. Bond, EdD, MPH, CHES (Behavioral Scientist, Sexual Health Educator, CUNY School of Medicine)
Lisa Cunningham (LGBTQ+ Advocate, Director of Digital Communications, Black Women's Health Imperative)
Moderated by:
Kendra Ivy, MD (Internal Medicine Resident, Morehouse School of Medicine) and
Erycka Webb, MD MPH (Internal Medicine Resident, Bridgeport Hospital)
This heart health conversation is brought to you by ABC in partnership with Black Mamas Matter Alliance, WomenHeart, PFLAG, and Black Health Matters.
Back to Calendar