Race and Heart Disease in America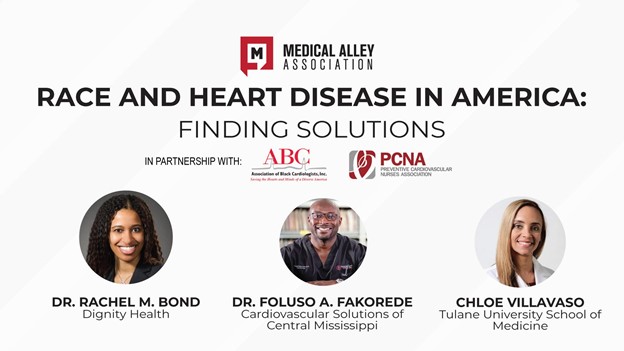 The ABC has partnered with the Medical Alley Association and the Preventive Cardiovascular Nurses Association in a series of thought-provoking conversations about race in America that ultimately seek meaningful change in healthcare.
The intersecting threats of health inequities along with modifiable global risk factors for CVD (obesity, diabetes, hypertension, dyslipidemia) significantly increase health disparities and are critical factors in patient outcomes. Social determinants of health—ranging from insurance coverage, stress, access to healthy food, and safe places for physical activity—can compound risks for CVD and related comorbidity and mortality.
This solutions-oriented webinar roundtable will bring together cardiovascular care experts and medical innovators including ABC CVD in Women and Children Co-Chair Dr. Rachel M. Bond, MD, FACC of Dignity Health, ABC PAD Initiative Co-Chair Dr. Foluso Fakorede from Cardiovascular Solutions of Central Mississippi, and Chloe Villavaso from Tulane University School of Medicine, to discuss tested community approaches to addressing cardiovascular disease inequities as discussed in the hot topics podcasts. The webinar will also explore solutions for policymakers to consider.
This free webinar is the final part of a three-part content series that will follow two podcast episodes. Register now to take part in this important conversation.
Date/Time: December 8, 2022, 12:00 PM CT (1:00 PM ET)
Register Today
Back to Calendar