Melissa Burroughs Peña, MD, MS, FACC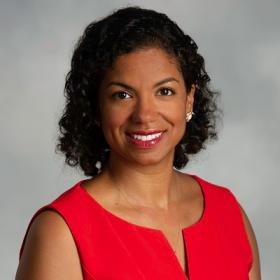 Melissa Burroughs Peña is a general cardiologist with expertise in preventive cardiology and advanced echocardiography. Dr. Burroughs Peña takes a holistic approach to the management of cardiovascular disease, applying the latest medical research to individualized patient-centered care. Dr. Burroughs Peña received her MD from Harvard Medical School. She completed her residency in internal medicine at the University of California, San Francisco, where she was a Global Health Scholar. She has previously interned at the Pan American Health Organization working on hypertension surveillance in Latin America and the Caribbean. Duke University is where Dr. Burroughs Peña completed cardiology fellowship and a Master of Science in Global Health. While a cardiology fellow, Dr. Peña also was a fellow at the Duke Clinical Research Institute.
Dr. Burroughs Peña's research interests include the effect of urban development policy and environmental exposures on cardiovascular disease outcomes. She focuses much of her work in low- and middle-income countries, including research in Peru on the effect of air pollution on cardiac structure and function as a NIH Fogarty Global Health Fellow in 2014. She enjoys caring for a diverse patient population in the Bay Area. She has lived in South America and enjoys traveling and spending time outdoors with her husband and 2 children.
View All Board Members