Kevin Sneed, PharmD, CRPh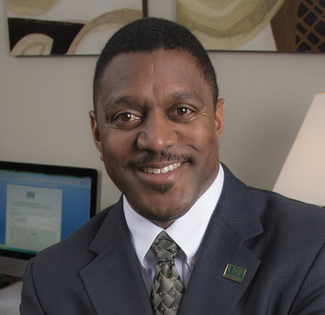 Dr. Sneed is a tenured Professor and the founding Dean of the USF College of Pharmacy. He also serves as a Senior Associate Vice-President for USF Health. His educational background includes a Bachelor of Science Degree in Biology with a concentration in Microbiology from the University of Central Florida. Dr. Sneed received his Doctor of Pharmacy Degree from Xavier University of Louisiana College of Pharmacy, where he received numerous clinical and leadership awards. He completed an Ambulatory Care Pharmacy Practice Specialty Residency at Bay Pines Veteran's Administration Medical Center.
Dr. Sneed's research and clinical interests include the advanced pharmacological treatment of patients with Cardio-Metabolic Disorders, and examining Health Care Disparities. He is a national lecturer on both topics. Recent research interests include reviewing the causes of Statin-Induced Myalgias, and possible contributing pharmacogenomic factors. He is a Co-Director of the Community Outreach and Engagement Core (CEOC) in the Center for Equal Health, a Center of Excellence granted partnership between USF Health and the Moffitt Cancer Center. He is very active in community healthcare initiatives. He directed an innovative community initiative known as IN-SHAPE (Inter-professional Student Health Assessment Project and Evaluation), which addressed cardiovascular disparities in African-American and Hispanic communities in Tampa, FL. Dr. Sneed is also very engaged in emerging health technologies, and created USF Health Pharmacy Plus, which he touts as "The Pharmacy of the Future!" He has published numerous articles in peer-reviewed journals, book chapters, abstracts, poster presentations, and has participated in multiple grant projects and clinical trials.
Dr. Sneed serves on the Area Health Education Center- USF (Gulfcoast North), Board of Directors; Area Health Education Center (AHEC)- University of South Florida, Board of Directors; USF Nanomedicine Research Center (UNRC) Board of Directors; Hillsborough County Sickle Cell Association, Board of Directors; is the immediate past Chairman of the Cultural Health Initiatives Committee for the American Heart Association- Greater Southeast Affiliate- Board of Directors; and past Humana Corporation, HumanaCARES Division National Board of Advisors member.
He participates in many community endeavors on an annual basis, most notably the Florida Cancer Education Network Men's Health Forum in Tampa, FL. Dr. Sneed is very active in national and state organizations, among which include NPHA, ASHP, AACP, FPA, FSHP, and Kappa Alpha Psi Fraternity, Inc.
View All Board Members