Structural Heart Disease Task Force Program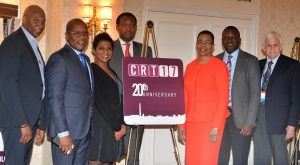 In February 2017, the  Association of Black Cardiologists (ABC) convened a roundtable of 21 diverse clinical and industry professionals from government, providers, advocacy organizations, academia, and communications, in conjunction with the Cardiovascular Research Technologies (CRT) 2017 meeting. The roundtable sought to address disparities in contemporary care of the minority patient with Valvular Heart Disease and to initiate an advocacy campaign to amplify awareness among minority patients, encourage treatment and address the barriers faced by minority and high-risk heart valve disease patients.
The task force encourages collaboration in progressing key solutions identified during the roundtable proceedings, which resulted in the release of a summary of recommendations focused on three immediately actionable items: conduct patient outreach pre-survey/TAVR or post-refusal of treatment; develop a policy task force to increase education and awareness; and develop a national campaign to address disparities.
Aaron Horne Jr. MD, Co-Chair
Oluseun Alli MD, Co-Chair