Clinical Trials Research | Upping Your Game
Professional Development for Women Cardiologists Seeking to Succeed in Clinical Research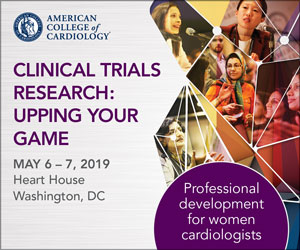 The ACC's Diversity and Inclusion Task Force invites interested women cardiologists to apply for an exclusive and exciting two-day session on careers and professions in clinical research.
In line with goals of the ACC's Diversity and Inclusion Initiative, this session is intended to increase the number of female investigative leaders in cardiovascular research. By increasing the number of women cardiologists available to serve as leaders in cardiovascular clinical trials research, the ACC strives to ensure diversity of thought, experience and perspective and more closely reflect the demographics of actual cardiovascular patients.
If you are a woman cardiologist with an interest in clinical research seeking to increase your knowledge and participation as an investigator and leader in clinical trials research, you are encouraged to apply.
Get more information
Back to Calendar