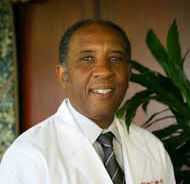 Dr. Malcolm Taylor was born in Vicksburg, Mississippi. His parents were native Mississippians and taught their children the value of education and to always stand up for what they believed was right. He completed high school at Rosa A. Temple in Vicksburg, Mississippi. Dr. Taylor then attended Tougaloo College and served as editor of the Hambre newspaper, President of the student body and earned a B.S. Degree in Physics.
He received his Medical Doctorate from Tufts University in Boston, Massachusetts. He completed both his Internship and Residency at the Washington Hospital Center in Washington, D.C. and a Fellowship in Cardiology at the Georgetown University Hospital also in Washington, D. C. Dr. Taylor is Board Certified in Internal Medicine and Cardiology.
Dr. Taylor is an accomplished clinician, medical educator and clinical researcher. He is active at the local and national levels in a number of professional societies and organizations, including the American College of Cardiology, American Heart Association, National Medical Association, International Society for Hypertension in Blacks, and the Association of Black Cardiologists; where he has served as Treasurer, Vice-President, and President. Dr. Taylor is active in the Mississippi Medical and Surgery Association where he has served two terms as President. He was appointed by the Governor of Mississippi to serve on the Statewide Health Coordinating Council. He has served as Primary Investigator for a number of clinical studies and has been a Lecturer on Congestive Heart Failure, Hypertension, and Ischemic Heart Disease for many years.
Dr. Taylor is a founding partner of Jackson Cardiology Associates in Jackson, Mississippi where he is in private practice with four other Cardiologists. He is Assistant Clinical Professor at the University of Mississippi Medical Center and Director of the Congestive Heart Failure Clinic at St. Dominick-Jackson Memorial Hospital in Jackson Mississippi. Dr. Taylor is an active staff physician at St. Dominic-Jackson Memorial Hospital, River Oaks Hospital, and Central Mississippi Medical Center in Jackson, Mississippi. He recently served as Governor for the Mississippi Chapter of the American College of Cardiology and is the immediate past President of the Association of Black Cardiologists, Inc.
Dr. Taylor is an avid golfer and enjoys listening to Jazz music.
View All Board Members