2017 was an active year for healthcare, including the issue of healthcare access.  As the need to ensure access across all populations continues to be paramount, ABC is celebrating the progress of the ABC Access Initiative. 
The ABC Access Initiative began in November 2016 with a goal of convening opinion leaders and advocacy experts from different areas to meaningfully address issues related to patient access.
 Accomplishments of this Initiative so far are:
In March 2018, ABC and ACC collaborated on a two-phase initiative focused on disparities in access to treatment among minorities and underserved populations. The first phase of this initiative was a survey among ABC and ACC members which addressed current issues of access to cardiovascular therapies and perspectives of disparities that exist in patient care. The second phase was a Forum conducted at ACC.18 that brought together a diverse group of stakeholders to provide further insight and clarity around the issues of access, with a focus on the challenges faced by minority and underserved patients with varying levels of insurance.  A summary of the survey data is shown here. 
Publication of Summary Recommendations (February 2017)
Second Roundtable meeting (March 2017) — Roundtable participants included patient advocates, healthcare providers and insurers, patient advocacy organizations, federal agencies, policy experts and others interested in expanding access and accelerating process for people with or at risk for cardiovascular diseases and stroke.
Formation of two work groups to explore solutions related to pharmacy programs and prior authorization (June 2017)
Development of three comprehensive program launch plans (September – December 2017)

MTM (Medical Therapy Management) community awareness/engagement and future pilot program
Prior authorization resource kit optimized for healthcare providers
Health plan/healthcare provider meeting program and survey to further explore prior authorization disparities
Plus … presentations or discussions about the Initiative with:
More than 10 national or regional meetings
National Continuing Medical Education (CME) Programs
Congressional Black Caucus meetings
and more…
This highly collaborative Initiative would not have been possible without the continued insights and involvement of the talented and dedicated work groups who represent many different sectors and organizations. We are particularly grateful to be able to work with these individuals towards key shared goals.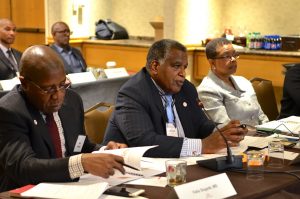 Initiative Chair
Keith C. Ferdinand, MD, FACC, FAHA, FNLA, FASH
Professor of Medicine, Tulane University School of Medicine
Pharmacy Programs Work Group
Kevin B. Sneed, PharmD (Work Group Lead), Senior Associate Vice President, University of South Florida Health Dean and Professor, College of Pharmacy
Michele Blair, CEO, Heart Failure Society of America
Rebekah Gee, MD, MPH, Secretary of the Louisiana Department of Health
David A. Gooray, MD, FACC, Cardiologist
Millicent Gorham, PhD, MBA, FAAN, Executive Director, National Black Nurses Association
Patrice Guzman, MBA, Senior Manager for Patient Advocacy, Heart Failure Society of America (HFSA)
Barbara Hutchinson, MD, PhD, FACC, President, Association of Black Cardiologists
Marjorie Innocent, PhD, Senior Director of Health Programs, National Association for the Advancement of Colored People (NAACP)
Frank W. Smart, MD, FACC, FACP, Chief, Section of Cardiology, Department of Internal Medicine, Louisiana State University, President, Louisiana Chapter of the American College of Cardiology
Richard Allen Williams, MD, FACC, FAHA, FACP, Clinical Professor of Medicine, UCLA School of Medicine, President, National Medical Association, Founder, Association of Black Cardiologists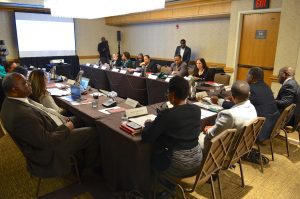 Prior Authorization Work Group
Phillip B. Duncan, MD, FACC (Work Group Lead), Medical Director, Cardiac Health Management Network
Catherine Davis Ahmed, Director of Outreach, FH Foundation
Seth Baum, MD, FACC, FACPM, FAHA, FNLA, FASPC, President, American Society for Preventive Cardiology
Javed Butler, MD, PhD, Chief of the Cardiology Division, Stony Brook School of Medicine
Lisa Martin, MD, Associate Professor of Medicine, George Washington University
Gary A. Puckrein, PhD, President and CEO, National Minority Quality Forum
Joyce Ross, MSN, CRNP, CLS, FNLA, President, National Lipid Association
Felix Sogade, MD, FACC, FHRS, Chairman of the Board, Association of Black Cardiologists
Allison J. Young, President and CEO, Louisiana Community Health Plan, United Healthcare
The ABC would like to thank the following supporters for their contributions to the success  of the Access Initiative:
Amgen, Arbor Pharmaceuticals, AstraZeneca, Boston Scientific, Bristol-Myers Squibb/Pfizer, Novartis, and Sanofi/Regeneron.